THE PENSIONERS BOAT PROJECT
A MILLION PENSIONERS = £1 MILLION !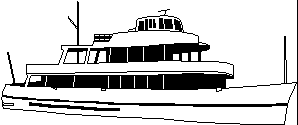 Dedicated to London's Senior Citizens
---
WHY NOT A PENSIONERS BOAT CLUB ?
---
Hello...to the Pensioners of LONDON...

In 1994 LT commander Len Crickmar RN, a time-served Waterman, joined with Ian Sharpe (environment) and John Bauer (Becton Pensioners) to launch the 'Pensioners boat project' they recognised the demand of pensioners to enjoy access to the Thames, many often recalled their river trips to and from Southend on the old Paddle steamer.

The objective was to raise enough money to provide a 200 seater boat for London's almost 3/4 million Pensioners and disabled groups with 24/7 access to the floating 'Boat Club' and offering regular enjoyable river trips.

To commemorate VE Day Celebrations and prove their point, the group hired the 'Kingwood', an ex-Dunkirk vessel, On the Day, demand was so high that hundreds were turned away despite the running of extra trips.

The 'Pensioners boat project' had proved to be a total success, and was supported by the Corporation of London, The Bridge House Trust, The London Rivers Association', 'Age Concern', the 'London Pensioners Association', London's Boroughs, News International, Virgin Group, the 'Docklands Forum', and many other Trusts.

After this proven success, one of London's leading Boat Companies, 'City cruises' of Rotherhithe, offered an existing plan to build a 200 seater craft which would provide special access and provision for the elderly and disabled groups, Gary Beckwith, their Director joined with the 'Corporation of London' and 'Docklands Forum' Communities to support an application for funding to the lottery commission.

Sadly, the commission was to turn it down despite the massive support shown for the project, during 1995 every London Borough leader had sent letters of support for the project, not to mention, important businesses and trusts. including Richard Branson, who showed his support by sending free crates of Vodka for the VE Day event, the elderly still believe in Richard to be their hope for a 'dream' boat in the heart of London to cater to the needs of elderly and disabled people.

A state of the art boat with all modern facilities could be moored most of the year at Masthouse Terrace on the Isle of Dogs, by not using fuel it would be good for the environment. it would provide a 24/7 floating club for London's Pensioners, disabled groups, and all their families, it would encourage more visitors to London's riverside helping to stimulate the economy of the Thames, including existing commercial river transport.

The cost of a Pensioners boat could even be raised in advance before it is built by issuing a low cost Club membership pass, this pass would also act as a secure boarding pass once the boat is built.

A Pensioners boat Club based in the heart of Olympic London will be popular, not only for pensioners, but could also be used by local communities. Various activities aboard could help raise money for charity events, etc. Pensioners might choose to join a 'Holywood Club' aboard for an extra £2, others might choose a Music Club, a Video or film Club, etc.

'The pensioner's boat' would be a focus for Londoners 24/7, raising lots of money for many good causes throughout the year. This is one dream that would soon become a reality with your help, so write to your MP now.


ABOUT US