St. Sepulchre-without-Newgate
Giltspur Street, London EC1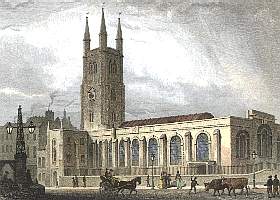 St. Sepulchre-without-Newgate is the largest church in the City of London. The tower and outer walls were built around 1450. Badly damaged in the Great Fire of 1666, the church was rebuilt by Wren's masons in 1670-71.

The ashes of Sir Henry Wood, Founder of the Promenade Concerts - the longest running continuous series of orchestral concerts in the world - are interred in the Musicians' Chapel where there is also a commemorative window of Dame Nellie Melba, the famous Australian soprano.

On the south wall there is a stained glass window commemorating Captain John Smith, the first Governor of the state of Virginia, USA, whose exploits included sailing to America in "the little ships" in 1607, where he was captured by Indians and freed by Princess Pocahontas. John Smith died in 1631 and is buried in the south aisle, his final resting place.