New ammended scheme for a Civilians Remembered Memorial and Park
designed by award winning architect Piers Gough CBE
1 - River and Street views
2 - Overhead view of the ammended plan for a Civilians Remembered Memorial and Park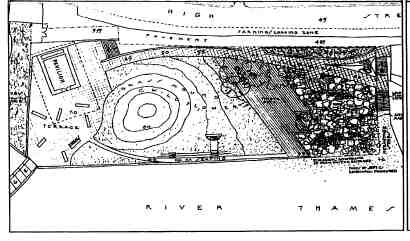 Civilians Remembered Trust Newsletter
On August 1st. 2003, the Civilians Remembered Trust submitted a revised design scheme to the London Borough of Tower Hamlets. You can see from the river view (1) above, that the revised scheme is identical in all but one respect to the original plan of September 2002. Despite extensive consultation the original design was not popular with a number of local residents who thought that the inclusion of an underground restaurant would be inapropriate for the Park.
In order to move this important project forward as quickly as possible, we reluctantly agreed to remove the restaurant. sadly, it means a loss of a fantastic facility for visitors that could have provided a security and maintenance revenue stream.
The above incorporates several innovative elements as well as more traditional park components, designed to be used all year round.Some of the most exciting elements of the Park are: the Queen Mother Memorial Bronze relief designed by John W. Mills ARCA PPRBS FIRSA; the memorial Pavilion will feature the 'roll of honour' commemorating Civilians who lost their lives during World War Two, it displays the effects of war on civilians;and there is a glass bridge that links up with the Thames Walkway.
The planting and landscaping makes reference to the natural environment and to the devastation of the site in ww2. A section of the river wall will be remodelled to encourage inter-tidal riverrine flora and a jagged jetty and rockery to denote bombing during the blitz. The Park is designed to offer a fitting and long over-due national memorial to the civilians killed and injured in ww2. It will also provide information about these and more recent civilian wartime tragedies.
On April 14th. 2004 planning permission was granted for a Civilians Remembered Memorial at Wapping Hermitage, Thank you for your support and contributions in helping us achieve a successfull outcome to our Campaign. We regret the trust has closed.

The Civilians Remembered Trust
Registered Charity No. 1093621